A Mobile App for Avon Italy—Cosmetic Temptations and More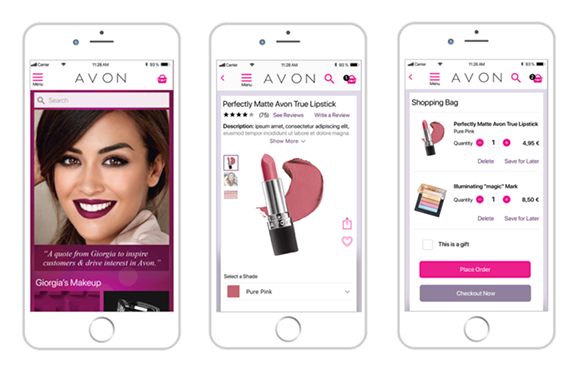 Avon Italy wanted a mobile app to make product browsing and buying a breeze with seemingly endless scrolling and the ability to buy directly from Avon. We understood this app could have a significant impact on customer experiences and Avon's business.
I joined the project in progress as a UX Design Lead with a team in Europe and the United States, including 3 other UXers, 2 product owners, a technical architect and account executive.
This initiative was to create a prototype over a few weeks with the intent of earning new business for full mobile app development with Avon as part of a sales pursuit. Our account team advised that our Avon client desired a mobile shopping experience that provided plenty of tempting and seemingly endless scrolling.
What We Did

I worked to learn the Avon brand, online presence, as well as mobile experiences as well as that of their competitors. Customers had to rely on sales representatives, catalogs, eCatalogs, and a website—all of which limited the ability to browse and make purchases and none being very mobile friendly.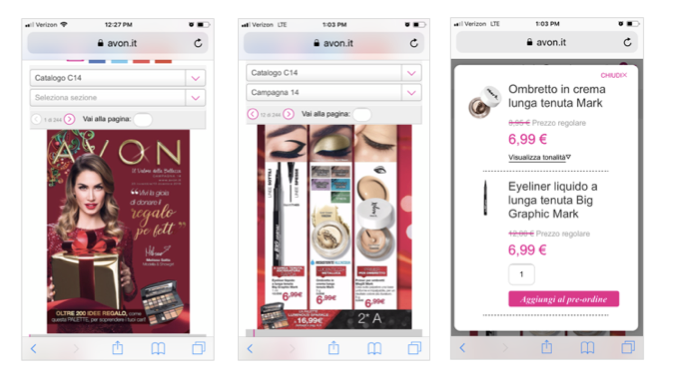 Avon Italy eCatalogs (customers could select from a list) as viewed on a mobile device.
My research took me to mobile app stores–it was not easy to locate official Avon apps. My explorations also took me to various cosmetic companies to see what consumers could experience. I shared my research with the team and together we worked to refine screen flows to focus on shopping for cosmetics from browsing to purchase. Two UX team members left the project before we completed the design.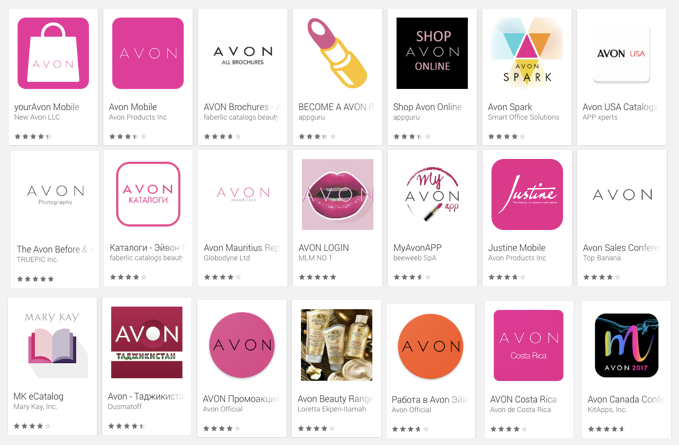 Avon apps on Google Play–which is the real Avon?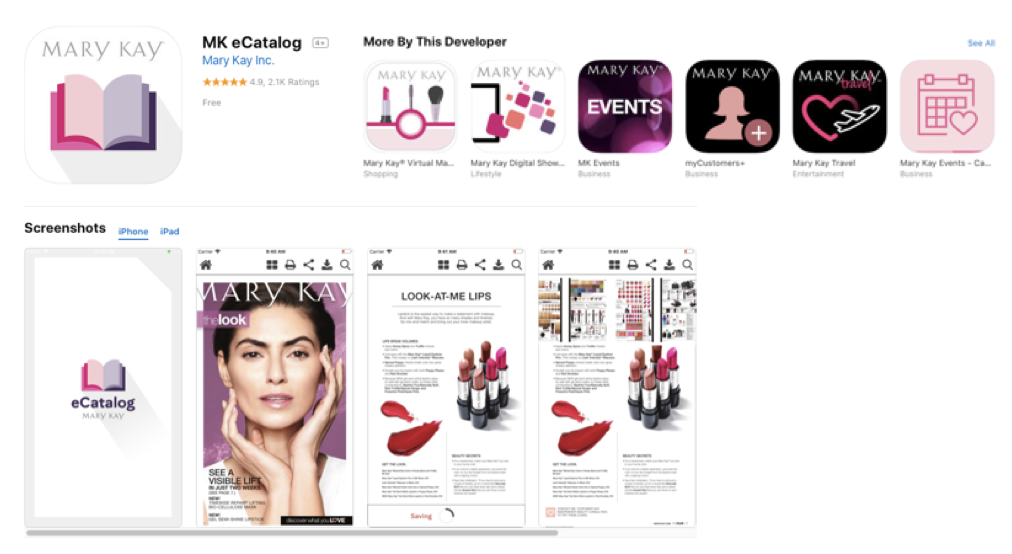 A competitor's eCatalog.
A Failed Design is An Opportunity
InVision affords the ability to create a convincing interactive prototypes with the greatest ease. iOS based visual designs were placed in InVision quickly making screens navigable for a client meeting in Italy. While this first draft made some positive waves it was not what our client wanted.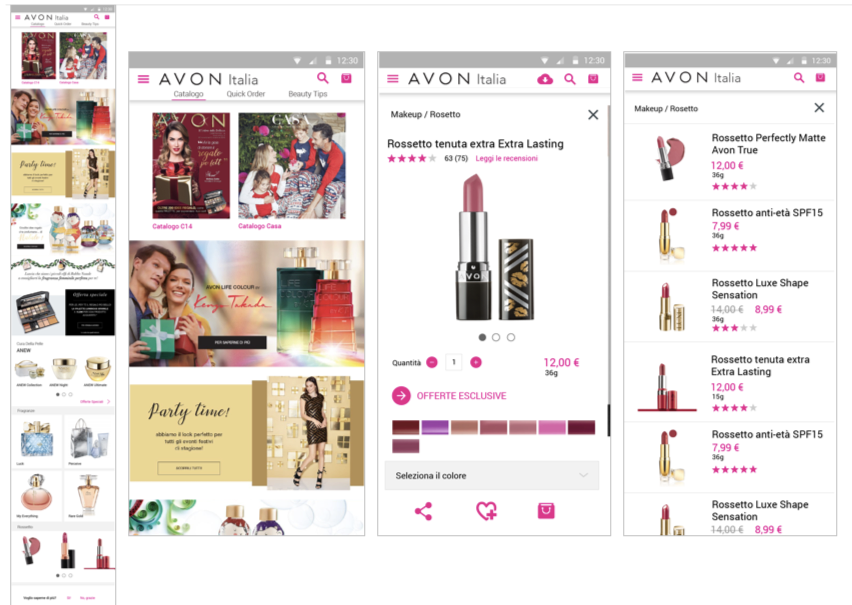 The initial design prototype shown to the client team in Italy that failed to entice.
We went back to the drawing board, reviewing feedback and revising our approach. I pitched in with wireframes and mentored a junior designer who was joining the visual design effort. I discovered that Instagram provided access to Avon's gorgeous product imagery and we used them to create a more powerfully branded concept!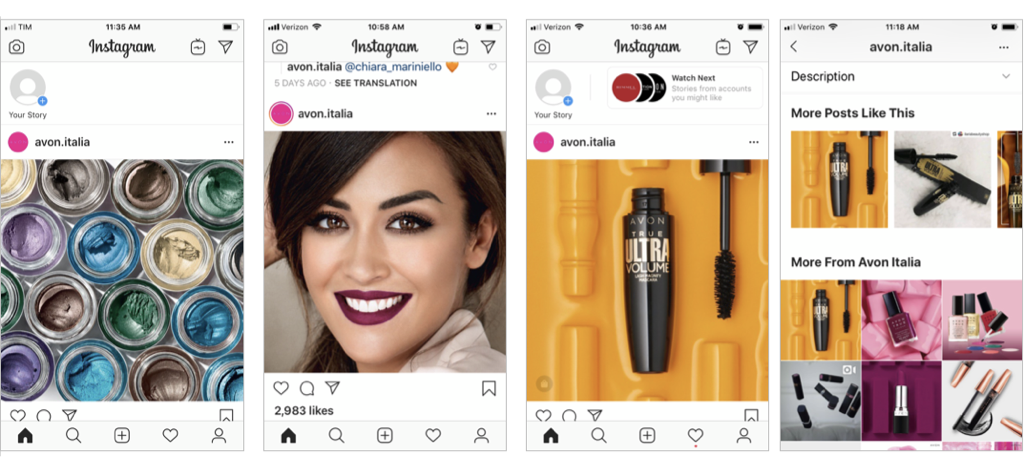 Gorgeous product and model imagery as seen on Avon Italy's Instagram.
Shopping by Phone Can Be Beautiful
Our next step was to travel to Italy as a team, bringing along visual design comps and a revised InVision prototype. We had discussions focused on a number of topics, much of it focusing on the logistics of technology. We took printed copies of our designs and placed them on the glass walls of the client offices and offered mobile devices for an interactive tour. This is what happened when the client viewed my designs:
"That's our app. That is our new mobile app that we want."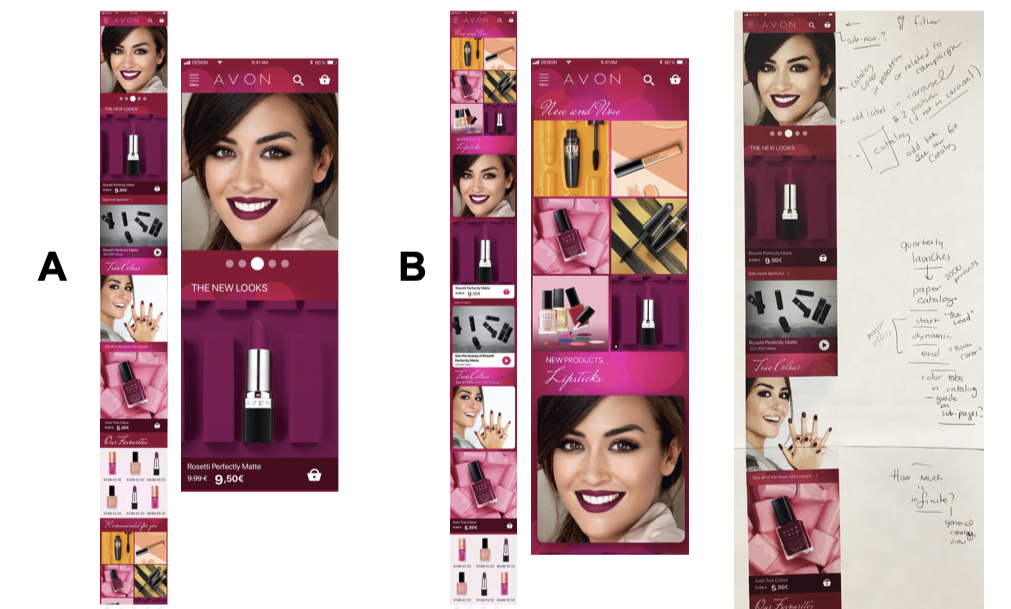 Two new home page designs with notes captured during client review.
I had made a connection with the client and their hopes for a mobile app.
The Result
Upon returning to the U.S. I dove deeper into cosmetic industry apps and shopping trends. We worked with the client team to refine our approach to showcase specific product lines and details of the purchasing experience. They went to great lengths to bridge communication challenges and convey their intentions with notes on our refined wireframes. As a team we worked to reconcile what we could accomplish with technology and data from the client. Although the app was never fully developed, I came away with a design and client relationship I am proud of.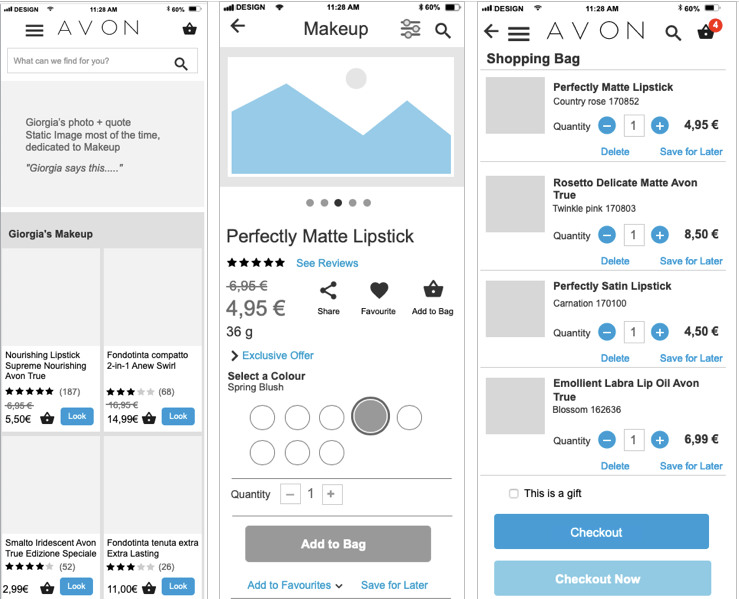 Wireframes helped the client and team explore options for consideration.
Key Take Aways
Client relationships can be fragile, be empathetic with the team
Prepare, anything can happen so be ready with a backup plan
Keep Calm and Carry On