Curious
I am an eclectic mix of talents and experiences. At the enterprise level, that means helping users get tasks completed with greater ease while also finding every opportunity to make their roles more productive—even pleasing. As a designer, my work is not about me, although my experience and artistry play a role. What I do is about the people who will interface with what I create. My artwork is my space to play, but this area most definitely influences everything I do, including works in my professional role.
I believe maintaining my curiosity and open mind helps me keep take things in and work to gain ever an expanding understanding. Sometimes that means re-visiting the same areas again and again, if doing so makes sense. I did that making chicken art, a lot of interesting projects and opportunities developed as a result!
Working with other disciplines is something I enjoy because they push my own abilities and I can return the favor by elevating their efforts with my capabilities. Having good relationships always improves the outcomes of projects and makes my work so much more enjoyable.
It may be worth mentioning my last name is actually Weissenbuehler. I use Feathers as my artist name, and a quick alternative to my 14-letter last name. I also use Feathers because I like things with wings, all kinds of birds and airplanes!
Clifton Strength Finder Profile
Here's what completing the Clifton Strength Finder said about me:
Learner
People who are especially talented in the Learner theme have a great desire to learn and want to continuously improve.
Strategic
People who are especially talented in the Strategic theme create alternative ways to proceed.
Achiever
People who are especially talented in the Achiever theme have a great deal of stamina and work hard.
Positivity
People who are especially talented in the Positivity theme have an enthusiasm that is contagious.
Responsibility
People who theme take psychological ownership of what they say they will do. They are committed to stable values such as honesty and loyalty.
Just for Fun!
Our Communication Design M.F.A. program at Texas State University afforded us opportunities to travel abroad to explore design around the world. I was fortunate enough to travel to Germany and Japan, extraordinary adventures for exploring and learning!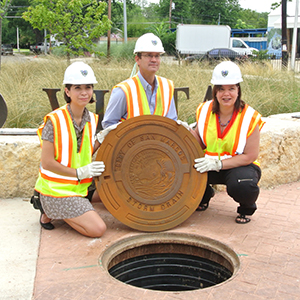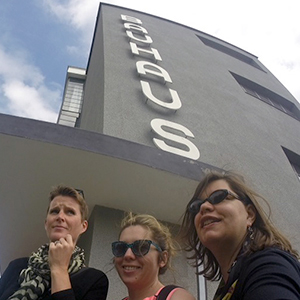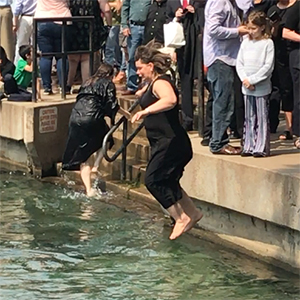 Some of my adventures: installing a storm drain cover, visiting the Bauhaus, and celebrating graduation by jumping into the San Marcos River.
Recent Awards and
Accolades
Texas State University 2017: Graduate thesis exhibit
Texas State University M.F.A. Showcase 2016: One entry accepted for exhibit
Texas State Graduate Research Support Fellowship 2016
Alpha Chi National College Honor Society 2016
Grand Prize Winner Storm Drain Cover Art Contest 2014: Grand Prize Winner
Texas State University M.F.A. Showcase 2014: Six entries accepted for exhibit
Poster for Tomorrow 2013: Shortlisted Poster Designer
Poster for Tomorrow 2012: Shortlisted Poster Designer
Texas State University M.F.A. Showcase 2012: Juror Award, two entries accepted